Join the Conversation

Is there a way to extend one's empathy about what the climate crisis is doing in the United States? Join the Conversation calls for the audience to understand the effects of the climate crisis and gain insight on how people with political power conceptualize it.
This is achieved by using recently stated claims from all 100 U.S. Senators. Quotes are color-coded based on three political parties (Republican, Democratic, Independent).
︎︎︎ High resolution PDF



Data Visualization

Infographic
The x-axis has two categories: U.S. States and U.S. Senator's belief on the topic. The y-axis is divided into 6 regions (Southwest, Southeast, Great Plains, Midwest, Northwest, Northeast) of the United States based on the 2014 National Climate Assessment.

The research process involved fact checking various resources such as articles, interviews, and their respective social media platforms.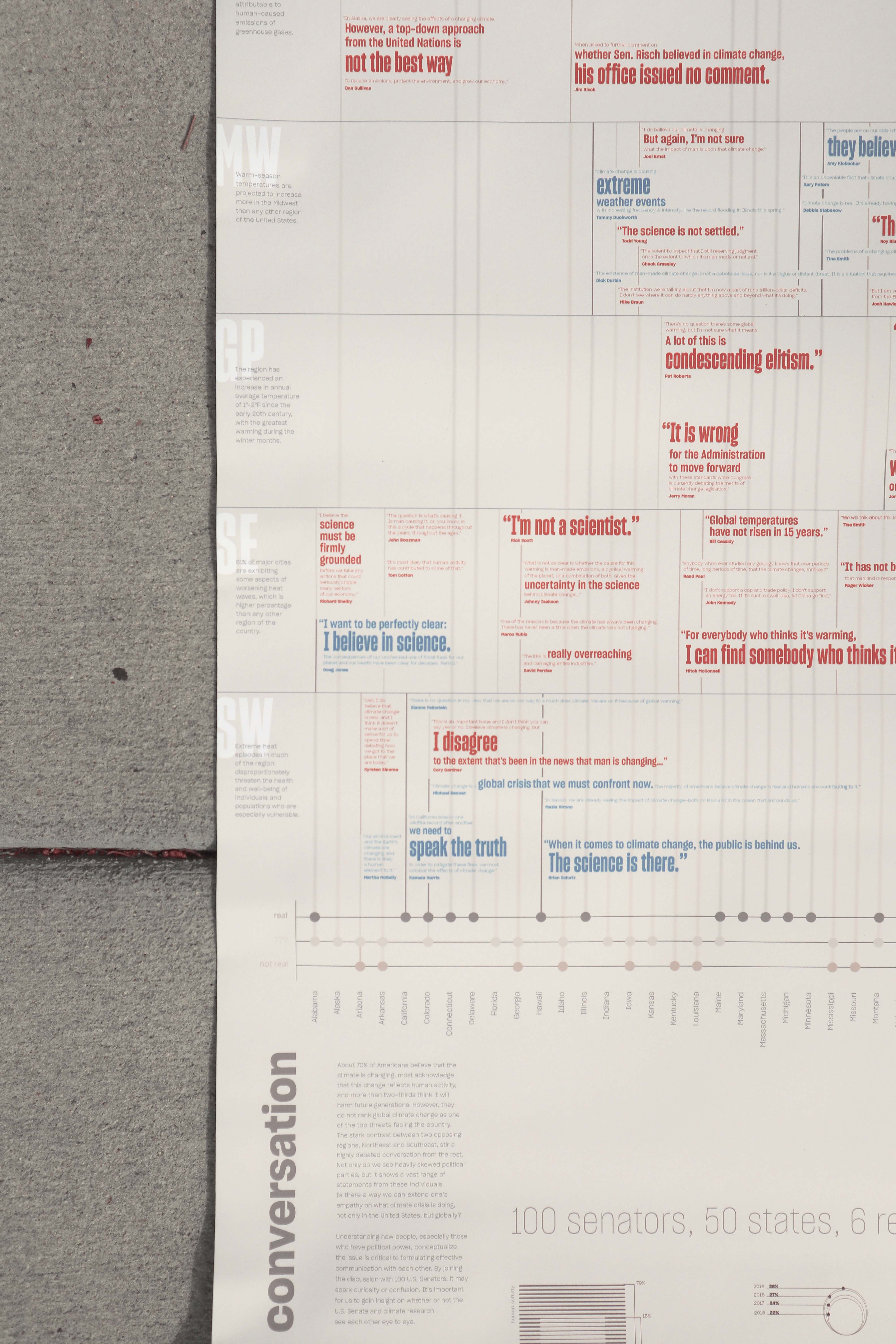 Research

I used the L.A.T.C.H. system to organize the information I gathered. The acronym stands for location, alphabet, time, category, and hierarchy. Visualizing enormous data is intimidating. With this method, it helped me draw comparisons and conclusions from several sources.
Process

I approached the process by visualizing data based on the X-Y axis graph. In this phase, it was a challenge to arrange 100 quotes in a way that is visually engaging and easy to understand. The structure is important to establish a clear narrative.
Revision

From the first iteration (left), I pushed the hierarchy further by adding a third level type size for the quotes. It visually emphasizes and evokes a heated, stirred up conversation.